Fast-Acting Electrolytes for Horses
Electrolytes play a critical role in horse hydration—but they're also involved in nearly every other physiological function! Keep your horse hydrated, improve energy levels, and boost performance with fast-acting Redmond Electrolyte. It triggers your horse's thirst while rapidly replenishing equine electrolytes lost through heat, sweat, exertion, or nervousness. Electrolyte paste is safe and recommended for horses in every discipline.

REPLENISHES ELECTROLYTES
Redmond Electrolyte is formulated by and sourced from nature. It provides the right electrolytes in the right ratios to keep your horse healthy and hydrated.
PACKED WITH MINERALS
60+ other essential trace minerals also help nourish and naturally balance your horse.
DELIVERS KEY VITAMINS
Added vitamins A, B, D, and E support overall horse health, mood, and vitality.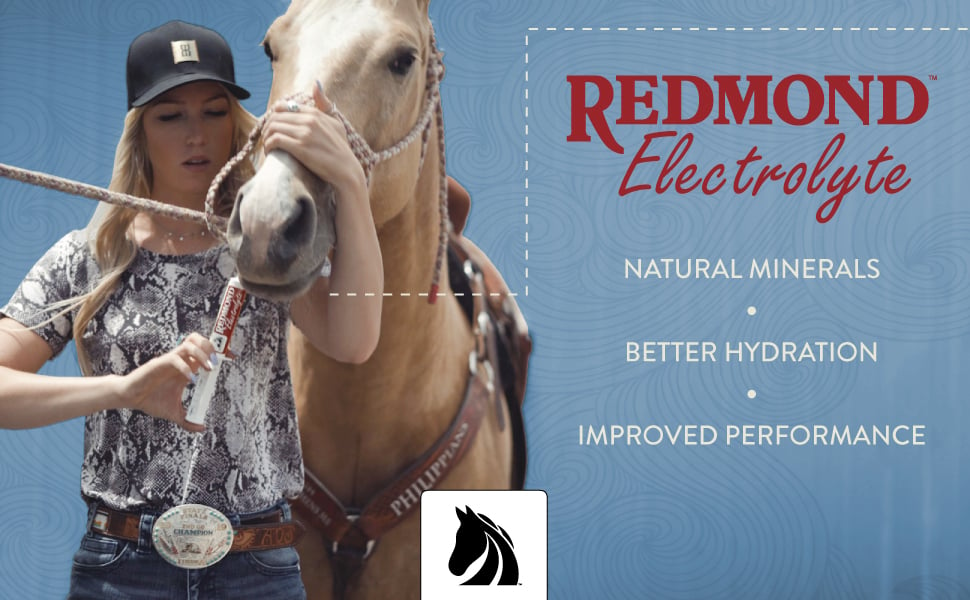 TRIGGERS HYDRATION
Critical equine electrolytes trigger your horse's thirst response and encourage drinking. Always ensure your horse has access to fresh water when feeding Electrolyte paste.
BOOSTS ENERGY LEVELS
Targeted formula of electrolytes and vitamins for horses support strong energy levels and performance.
EASY DOSING
Metered syringe is great for traveling, trail-riding, and administering on the go. Plus, horses love the natural peppermint taste!
Redmond Electrolyte is an add-on in our Foundational Horse Care Program and must-have for traveling and performance horses. Complete your program with other Redmond favorites for best results.
Step 1 - Scoop Daily Gold
Step 2 - Scoop Crushed Rock
Step 3 - Free-Choice Rock
Learn more about the benefits of electrolytes for horses, as well as when to give your horse salt or an electrolyte.

FEEDING INSTRUCTIONS:
Fast-acting Redmond Electrolyte syringe is easy to use! It's perfect for traveling, taking on the trail, or dosing quickly in any situation.
Administer the electrolyte paste orally. For ponies and miniature horses, feed half a syringe. For full-sized horses, feed a full syringe. Always provide your horse access to fresh water, as electrolytes encourage drinking.
Discover additional benefits of electrolytes for horses and 8 vet-recommended situations when they should be given.
WHEN SHOULD YOU GIVE YOUR HORSE AN ELECTROLYTE SUPPLEMENT?
Let's say your horse has worked and sweated hard or she's been traveling for two days during the first sweltering spring weather. Your horse looks a little droopy and needs additional fluids. Should you provide salt or an equine electrolyte supplement to replenish minerals and encourage drinking? Great question! Horses need salt and occasionally an electrolyte. Learn more about when to feed your horse salt vs. electrolytes.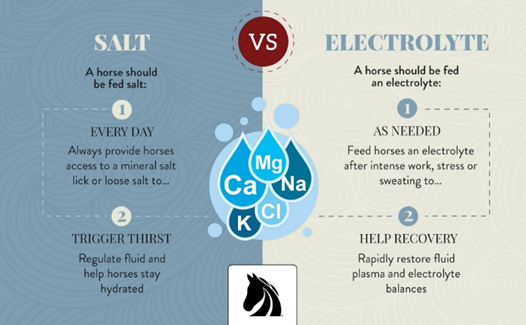 ELECTROLYTES INGREDIENTS:
Water, Minerals, (Potassium Amino Acid Complex, Magnesium Amino Acid Chelate, Calcium Amino Acid Chelate, Mineral Salt), Citric Acid, Dextrose, Vitamins (Thiamine Hydrochloride, Niacin Supplement, Vitamin B-8, Vitamin E Supplement, Riboflavin Supplement, Vitamin B-12 Supplement, Calcium Pantothenate, Pyridoxine Hydrochloride, Vitamin A supplement, Vitamin D-3 Supplement), Corn Oil, Peppermint Essential Oil, Sorbic Acid (Preservative), Xanthan Gum.
| Mineral | Max | Min |
| --- | --- | --- |
| Calcium | | 300 mg |
| Salt | | 600 mg |
| Magnesium | | 425 mg |
| Potassium | | 425 mg |
| VITAMIN A | | 2,500 IU |
| VITAMIN B | | 30 IU |
| VITAMIN C | | 10 IU |
| VITAMIN D | | 305 mg |
"My horse and I really like the texture and consistency of the Electrolyte paste. I felt that the paste helped to give my mare some extra pep in her run today and helped her to fire better!"

STEPHANIE MACKISSOCK
"I love it… [and] the horses love the Electrolyte paste as well! They took it and swallowed it no problem and seemed to enjoy it! No negative effects."

SARAH SMITH
"I felt after a hard ride [Redmond Electrolyte] gave my horse a nice pick-me-up to keep him from being too exhausted or dehydrated. Usually he has much more energy the following day after administering Electrolyte! I'm a big fan."

HAYDN MORSA
DAILY GOLD FREQUENTLY ASKED QUESTIONS
My horses love the rocks!
My horses just love the rocks, I can put out a regular square salt block and my horses won't touch it. As soon as I put out the Redmond Rock, the couldn't stop licking it!
The Bomb
this one works great for my horse. Gives him a boost and drinks plenty of water,
Amazing stuff!
LOVE the Redmond Electrolytes! They are perfect for getting my horses to drink when hauling, easy to give and taste approved by my horses!
Very palatable - great in the summer heat
These electrolytes are great. Easy to administer in the tube. My horse really likes the taste of it. When it's hot outside and you're trailering or just riding and your horse sweats a lot, it's a great way to rebalance the horse's body again.
Hi Danny, Thank you sharing your success with Redmond Electrolyte. We love to hear when horses are getting what they need! Redmond Daily Gold syringe is also a great option and helps with healthy digestion. Happy Trails to you and your horse!
Net Orders Checkout
| | | | |
| --- | --- | --- | --- |
| | | Subtotal | $0.00 |
| | | Shipping | |
| | | Total | |
---
Shipping address