Natural Fly & Tick Repellent For Horses
Bites and stings from pests stress your horse and can turn into painful sores. Help your horse stay comfortable during fly season with Redmond Rock Crushed with Garlic! It naturally repels flies and ticks on horses and delivers 60+ trace minerals and electrolytes to support better health and hydration. Crushed with Garlic is natural nutrition and fly control you can feel good about giving your horse.
NATURALLY REPEL FLIES, MOSQUITOES & TICKS ON HORSES
Bring peace to your barn this fly season with Crushed with Garlic loose mineral salt. It works from the inside out to keep flies and ticks off horses and repel biting insects.
DELIVER ESSENTIAL TRACE MINERALS
Over 60 natural loose minerals nourish and support your horse for optimum health and performance.
ENCOURAGE HYDRATION
Crushed is a proven electrolyte replacement that helps you prevent dehydration and support your horse's energy demands.
NATURAL SELENIUM
Rich in selenium to deliver antioxidant defense and support healthy immune and thyroid function.
SUPPORT RESPIRATORY FUNCTION
Give your horse's respiratory system a boost by naturally treating and preventing lung diseases and infections with garlic.
IMPROVE GUT HEALTH
Garlic is also friendly to the gut! It promotes healthy microbiome while inhibiting harmful bacteria and parasites.
STEP 2
Redmond Rock Crushed with Garlic fits into step 2 of our Foundational Horse Care Program. Complete your program with other Redmond favorites for best results.
Step 1 - Daily Gold
Step 2 - Crushed Rock
Step 3 - Free-Choice Rock
Foundational Horse Care Program
FEEDING INSTRUCTIONS
Add the recommended dose of Crushed with Garlic to your horse's daily feed; don't offer free choice. We recommend starting garlic in early spring and feeding through summer and fall for best results reducing flies.
Redmond Rock Crushed Garlic
Weight
Maintenance
<400
½ oz | 1 Tbsp
400-900
1 oz | 2 Tbsp
900-1400
2 oz | 4 Tbsp
>1400
3 oz | 6 Tbsp
1 oz scoop included in pouches and 25lb buckets - no scoop in 25lb bags
Why Redmond Garlic is Different
Crushed with Garlic contains powerful bioidentical garlic oil. It's highly concentrated, which means much less is needed to gain the same benefits as other garlic forms. Bioidentical oil has the same flavor and organosulfur compounds as natural garlic—but it's consistently more bioactive and stable. Crushed Garlic is a smart, safe, and effective choice as a garlic supplement and natural loose mineral salt horses love!
Which garlic is best to feed?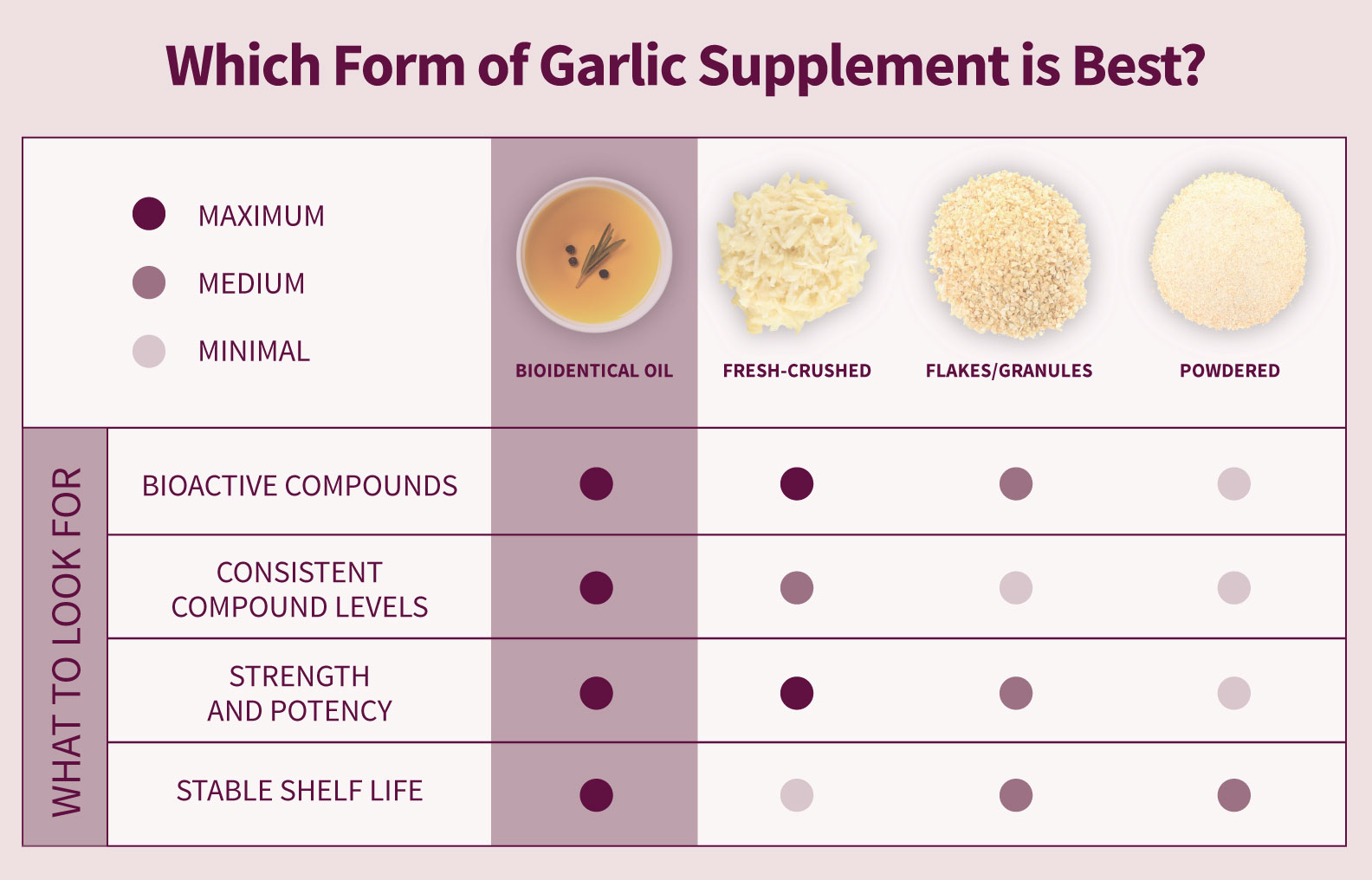 KEY INGREDIENTS:
Unrefined Salt, Garlic Oil
GUARANTEED ANALYSIS
| Mineral | Max | Min |
| --- | --- | --- |
| Calcium | .85% | .35% |
| Phosphorous | | 0.00% |
| Salt | 95% | 90% |
| Magnesium | | .06% |
| Potassium | | .03% |
| Sulphur | | .07% |
| Iodine | | 10ppm |
| Manganese | | 5ppm |
| Copper | | 3ppm |
| Zinc | | 1ppm |
FULL MINERAL ANALYSIS
"During the summer, my horse Chicken always needed a fly sheet and mask to protect against irritation from flies and mosquitoes. Without this protection, he'd rub his mane out. Since feeding Crushed with garlic, I've seen a noticeable decrease in flies. Chicken isn't mane rubbing now, is drinking more, and no longer needs outer protection to ward off pests."

KIM ROBINSON, SALINA, UT
CRUSHED GARLIC FREQUENTLY ASKED QUESTIONS
Over priced
I put my horses on this over a year ago, before fly season. All my horses were on it, and my neighbors horses were too. (There are no other horses close) The flys were just as bad this year (actually a little worse) than previous years. I save a lot of money just using their basic salt and minerals. 50 lbs for $16.50…this mix is pointless…although I did try it on a steak for myself, it was tasty. LOL
Works great
Definitely helps the horses drink more water and I have seen a reduction in flies. Also being able to purchase in bulk is helping my wallet! I recommend.
Redmond Rock™ Crushed™ - Garlic
Redmond Rock Garlick
the horses love this . Donna Hakanson