Nature's Salt & Mineral Mix for Goats
At Redmond Agriculture, we understand that when your animals feel good, you feel good. That's why we offer our Goat Mineral Mix—a premium sea salt with naturally occurring essential trace minerals. This mix is also fortified with selenium (30 ppm), manganese, cobalt, copper, iodine, zinc and vitamins A, D and E.  The salt in our Goat Mineral Mix is free of chemical processing, preferred by livestock, and helps animals maintain a normal function. It is stocked in 5 lb and 25lb bags.

Redmond Goat Mineral Mix's granules are the perfect size for mixing or feeding free choice.
GOATS NEED MINERALS
Goats are browsers and have a reputation for nibbling on anything from your hat to the kitchen sink. However, they are much more discriminating about what they consume. Goats obtain their mineral needs from forage, feed, and sometimes water supply. Deficiencies are on the rise because feeds and forage often lack the correct quantity and spectrum of minerals goats require for optimum health. According to Mamoon Rashid, sheep and goat specialist with Manitoba Agriculture, Food, and Rural Initiatives, a free-choice supplement of loose minerals and salts will effectively help you meet the minerals demands of your herd.
YOUR GOATS WILL CRAVE IT
Redmond's Goat Mineral Mix and licks contain a complete balance of 60+ essential natural minerals, and you will not have to coerce stubborn animals to eat it. Animals crave our delicious mineral mixes so you can rest assured that your goats are getting the nutrition you are offering them.
NO DDGS
The primary reason Redmond products do not contain DDGS is, they simply do not need it. Salt is the ideal carrier for our complete mineral profile because animals naturally crave and regulate their salt intake. According to Dr. Larry L. Berger Ph.D (Professor of Animal Nutrition, University of Illinois), "Salt is a natural carrier for trace minerals, since all farm animals have a natural appetite for salt. Because [of this], it can be used as a delivery mechanism to ensure adequate intake of less palatable nutrients and as a feed intake limiter." In contrast, DDGS products require very careful moderation to ensure livestock do not eat too much, especially for smaller animals like sheep and goats. Because DDGS is high in phosphorus and sulfur, it is important to monitor their intake. Eating too much can cause health problems, interfere with their ability to metabolize important minerals (like copper and molybdenum), and pollute their environment as they excrete excess phosphorus and sulfur. By using salt as a mineral carrier, you can use animals' natural cravings and biological sensors to ensure they get only what they need.
THE PERFECT RECIPE
Redmond Goat Mineral Mix's granules are the perfect size for mixing or feeding free choice.
Redmond Goat Mineral Rock on a Rope is perfect for offering free choice.
KEY Ingredients:
Unrefined Salt, Calcite, Dicalcium Phosphate, Sodium Selenite, Zinc Oxide, Zinc Sulfate, Manganous Oxide, Manganous Sulfate, Copper Sulfate, Cobalt Carbonate, Ethylendiamine Dihydriodide (EDDI), Organic Vegetable Oil, Vitamin A Supplement, Vitamin D Supplement, and Vitamin E Supplement, Flavor.
Mineral Mix
Goat mineral guaranteed analysis here
Rock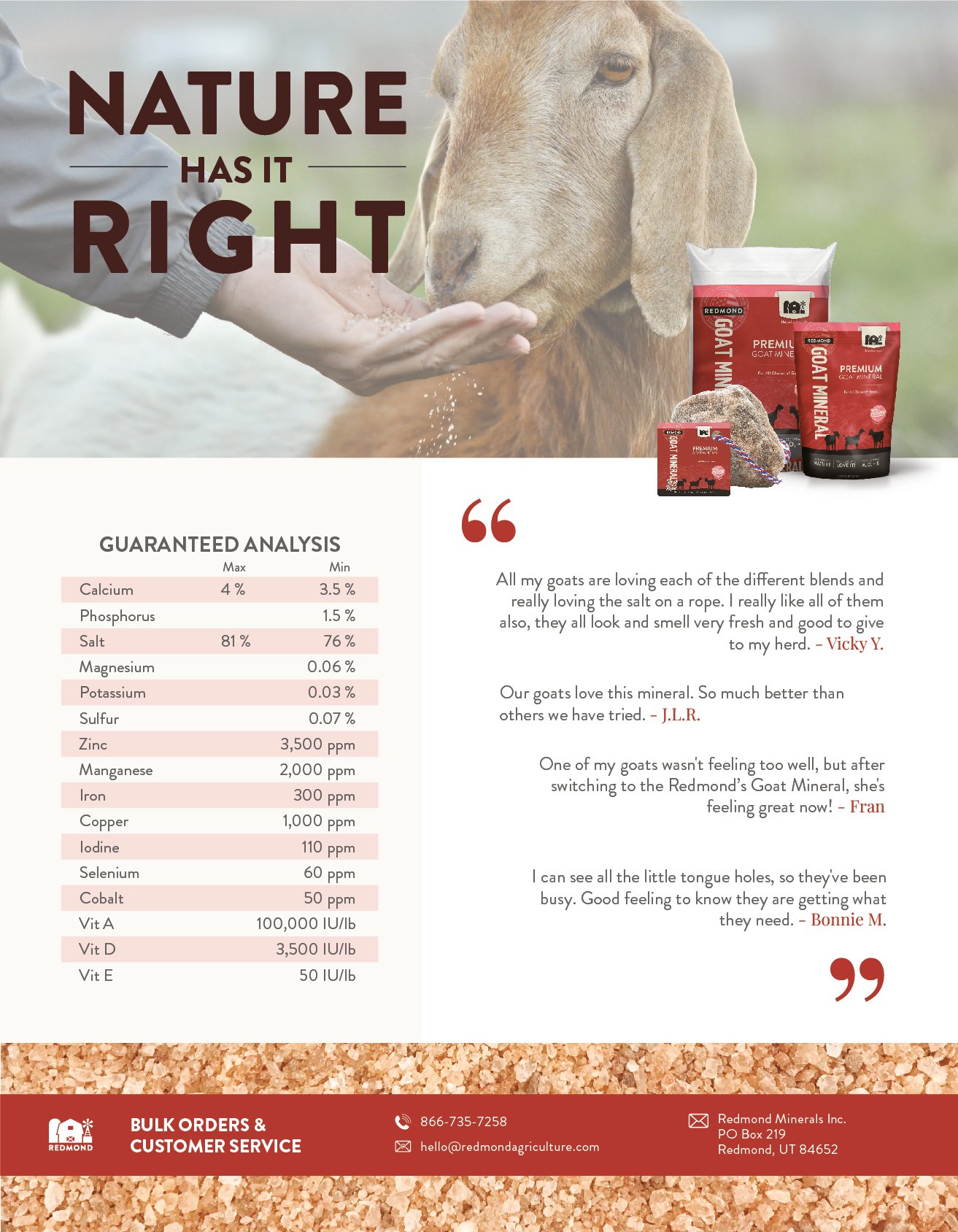 "There is goat mineral and there is GOAT mineral. Redmond is the best. I used to use Purina because that's all I could find- my goats didn't really go after it. I found Redmond and everything changed. My girls love this stuff. Their coats are improving, their eyes seem brighter and milk production is up. I have this on a subscription now so I won't run out."

VICKI DODDRIDGE
"Pure salts. Love this product. All the other "goats salts" on the market have extra ingredients. The Redmond salts are just salts, pure and simple. Our goats love them too!"

KERI MONTGOMERY
"Well balanced for my dairy goats. I love Redmond's goat mineral and plan on using it for years to come. I've had very minimal issues with copper deficiency and my goats coats stays very nice. I just wish it came with an option to have garlic in it!"

MEADOW
"My husband and I use Redmond's salt and consider it, not only a staple in our kitchen, but one of the things that we do to improve our health. After trying one of the big-name brands of goat minerals with little success, we decided to switch our goats over to Redmond's also. We now consider it one of the most important things that we do for their health. We try to manage their health as holistically as possible and just this one switch seems to have made the biggest difference in helping all of the other things that we do be more effective!"

BETH COUDEN
GOAT MINERAL FREQUENTLY ASKED QUESTIONS
love this salt lick.
is the goat lick safe for horses?
Great product
I use Redmond mineral salt for my horses and now my goats are getting all the minerals that they need to be healthy.
Goats love it
I love knowing that this has all of the minerals needed to keep goats happy.