Did you know poor digestion is linked to equine behavior? Digestive pain increases stress and anxiety and decreases your horse's ability to focus. Provide gastric support for your horse and all-natural stress relief with Daily Gold! Our healing bentonite clay improves gut microbiome, alleviates ulcer symptoms, diarrhea and other common digestive issues, helping horses get the most nutritional value from everything in their diet. It's a gentle and smart addition to any feed program!
DIGESTIVE SUPPORT
Daily Gold keeps your horse's gut steady through every season! It buffers acid, alleviates diarrhea, and promotes healthier microbiome and nutrient absorption.
NATURAL STRESS RELIEF
Help your horse feel calmer and focus better by resolving digestive issues that create discomfort and anxiety.
HORSE ULCER SUPPLEMENT
Naturally buffer stomach acid and relieve painful symptoms caused by equine ulcers.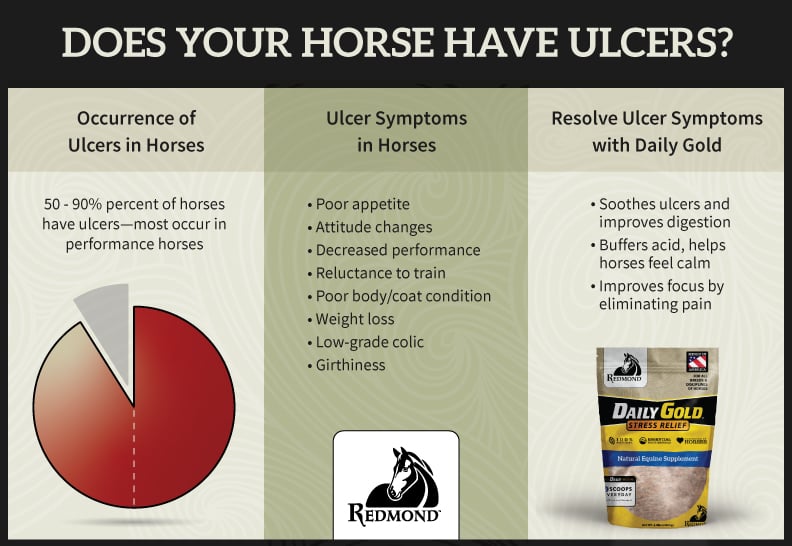 ESSENTIAL TRACE MINERALS
Nourish with 60+ loose minerals that improve performance, appearance, and health.
TOXIN BINDER
Daily Gold is 95% efficient at binding aflatoxins and T-2 toxins in feed and carrying them out of your horse's system.
MADE BY NATURE
100% natural Redmond bentonite sourced in Utah, USA, so you can feel good about giving it to your horse.
Step 1
Redmond Daily Gold Powder fits into step 1 of our Foundational Horse Care Program. Complete your program with other Redmond favorites for best results.
Step 1 - Daily Gold
Step 2 - Crushed Rock
Step 3 - Free-Choice Rock
Foundational Horse Care Program

Feeding instructions
Add the recommended dose to your horse's daily feed. We recommend mixing all feed and supplements together and adding a cup of water to increase palatability.
Daily Gold Powder
Weight
Maintenance
Digestive Challenges
<900
1 oz | 2 Tbsp
2 oz | 4 Tbsp
900-1400
2 oz | 4 Tbsp
3 oz | 6 Tbsp
>1400
3 oz | 6 Tbsp
4 oz | 8 Tbsp
1 oz scoop included in pouches and 25lb buckets - no scoop in 25lb bags
Why Redmond Clay is Different
Redmond Clay is sodium montmorillonite—also known as bentonite. It's mined from an ancient seabed located in Redmond, Utah. This rich deposit remained untouched for thousands of years and created a proprietary blend of highly effective clay. It's known for its detoxifying properties, broad spectrum of trace minerals, and natural ability to improve horse health and digestion.
Is Bentonite Clay Safe and Beneficial for My Horse?
INGREDIENTS:
Bentonite Clay
GUARANTEED ANALYSIS
| Mineral | Max | Min |
| --- | --- | --- |
| Calcium | 3.50% | 4.50% |
| Phosphorous | | 0.80% |
| Salt | 3.50% | 2.50% |
| Magnesium | | .80% |
| Potassium | | .70% |
| Sulphur | | .16% |
| Carbon | | 21900ppm |
| Iron | | 400ppm |
| Manganese | | 3900ppm |
"I used it to help ease my mare out of her bout with diarrhea, and it worked wonderfully. Her stools were back to normal after two days (one dose per day coupled with her standard dose of Daily Gold powder)."

DALIA GRIFFITH
"Great product. It controlled the diarrhea my horse had from the rich grass we have this summer. Works like a charm. Would highly recommend."

RUTA S.
"I will never stop using this product! My nervous, girthy, spooky Thoroughbred has had a personality makeover. So much calmer and easier to work with. His chronic runny diarrhea has become much healthier. I am truly impressed by this product. I mix it in with his rice bran and a little corn oil and he eats it all every time.

MICHELLE
"I am so grateful for this product. My thousands of dollars worth of Gastro Guard. We will continue with the Sucralfate, but this product has caused the most drastic change in my horse. She gets diarrhea at the first sign of something that makes her nervous. That has improved and she has calmed considerably. Easier to ride, she couldn't even walk before, she pranced around with her head high throwing in some sideways and spins. She walks around calmly with loose reins and head low now after about a month of this product. Such a major change for this uptight mare. She is 18 y/o former jumper with a career ending leg injury. She's been thru a lot and this product has really worked for her."

5 STAR AMAZON REVIEW
"Great product. Started my older retired show gelding on it, who has a history of laminitis issues. He is just blooming on it so began to give to three year-old colt who has had ulcer issues in past. Same thing with him, filling out and looking great. We just started him under saddle and no stress issues at all. Now I have the whole barn on it. They are all Arabians so normal dose would be 2 - 3 scoops...but all seem to be doing wonderfully on 1 scoop. Love this product and in the 25lb bucket size it is a great value!".

ROSIE M.
DAILY GOLD FREQUENTLY ASKED QUESTIONS
Love it
I've been using for over a year now. Had a mare who I spent years dealing with...."behavior" monthly and at shows. Treated her with hormones, training tactics, herbs; you name it, I did it. Was recommended Daily Gold and the paste. Haven't looked back since. I think the mare had ulcers on top of ulcers that finally were addressed and healed. She's so much happier and pleasant to work with. I will always feed 2 scoops a day, more if going into a stressful event, and the paste when competing. Thank you for such a great and AFFORDABLE product!
Daily gold
I absolutely love it, it changed my horse attitude a lot I'm very happy!!!
Pokey
My 6 year old filly ,Pokey has been suffering ulcers fore and hind for two years. I've tried Relyne. Along with her Misoprostol, ulcergard and Sucolfate , but still would not heal compleat Lu and would worsen on Relyne alone. I have her on Redmond daily gold stress relief for 14 days now and she is not aggressive and quiet when I touch her sides. More relaxed. I am hoping this continues.
Horse actually eats it!
So far so good. This is the 1st supplement my horse has actually eaten in a long time. He is picky and sometimes doesn't finish his grain but he has been since starting this. He is cribbing less and his stool is more solid.
Daily Gold - Stress Relief