FORTIFIED HORSE MINERALS + NATURAL FLY REPELLENT
Empower your horse with balanced nutrients and provide relief during fly season with Daily Red Garlic. Mined sea salt, 60+ trace minerals, and a boosted vitamin and mineral package support health and hydration, while garlic naturally repels pesky insects. Hydrate, sharpen performance, and provide all-day pest protection with Daily Red Garlic!
KEY VITAMINS + MINERALS
Daily Red contains 60+ mined trace minerals for horses. A boosted mineral and vitamin formula also aids immune function, healthy nerves, digestion, energy, and supports strong muscles and joints.
Vitamin A
Vitamin D
Vitamin E (naturally sourced)
SALT + ELECTROLYTES
A horse's most important nutrient is water! Get your horse to drink more and stay hydrated with Redmond salt and essential equine electrolytes that stimulate thirst.
NATURAL FLY CONTROL
Bioidentical garlic oil provides fly control from the inside out to reduce the number of insects pestering, landing on, and biting horses.
POWER OF GARLIC
Some studies show garlic may support the immune system, boost respiratory and gut health, and act as a natural anti-inflammatory.
SIMPLE + NATURAL
Daily Red Garlic delivers critical nutrients and repelling power without fillers, artificial flavors, or harmful fly-control chemicals that cause skin and respiratory irritation.
MINED IN USA
We mine Daily Red from one protected source: Redmond's ancient mineral deposit in Utah, USA.
STEP 2
Daily Red Garlic fits in step 2 of our Foundational Horse Care Program. Complete your program with other Redmond favorites for best results.
Step 1 - Daily Gold
Step 2 - Crushed Rock
Step 3 - Free-Choice Rock
Feeding instructions
We recommend starting garlic in early spring and feeding through summer and fall for best results reducing flies. Top dress Daily Red Garlic on feed to ensure your horse consumes a full serving and receives optimal fly-fighting benefits. Do not feed free choice.
Daily Red Fortified Garlic
Weight
Maintenance
<400
½ oz | 1 Tbsp
400-900
1 oz | 2 Tbsp
900-1400
2 oz | 4 Tbsp
>1400
3 oz | 6 Tbsp
1 oz scoop included in pouches and 25lb buckets - no scoop in 25lb bags
DAILY RED DELIVERS ESSENTIAL NUTRIENTS
We all know how important horse health is. Yet often, despite our best efforts to provide a balanced diet, many horses experience nutritional deficiencies that weaken health and performance. By filling in these nutritional gaps, Daily Red loose minerals and vitamins provide horses the resources they need to stay healthy and vibrant.
READ ABOUT NUTRIENT DEFICIENCIES
WHY REDMOND GARLIC IS DIFFERENT
Daily Red Garlic contains powerful bioidentical garlic oil. It's highly concentrated, so much less is needed to get the same benefits as other garlic forms. Bioidentical oil has the same flavor and organosulfur compounds as natural garlic but is consistently more bioactive and stable. Redmond Daily Red Garlic is a safe and effective choice as a loose mineral garlic salt supplement horses love!
LEARN ABOUT THE FORMS OF GARLIC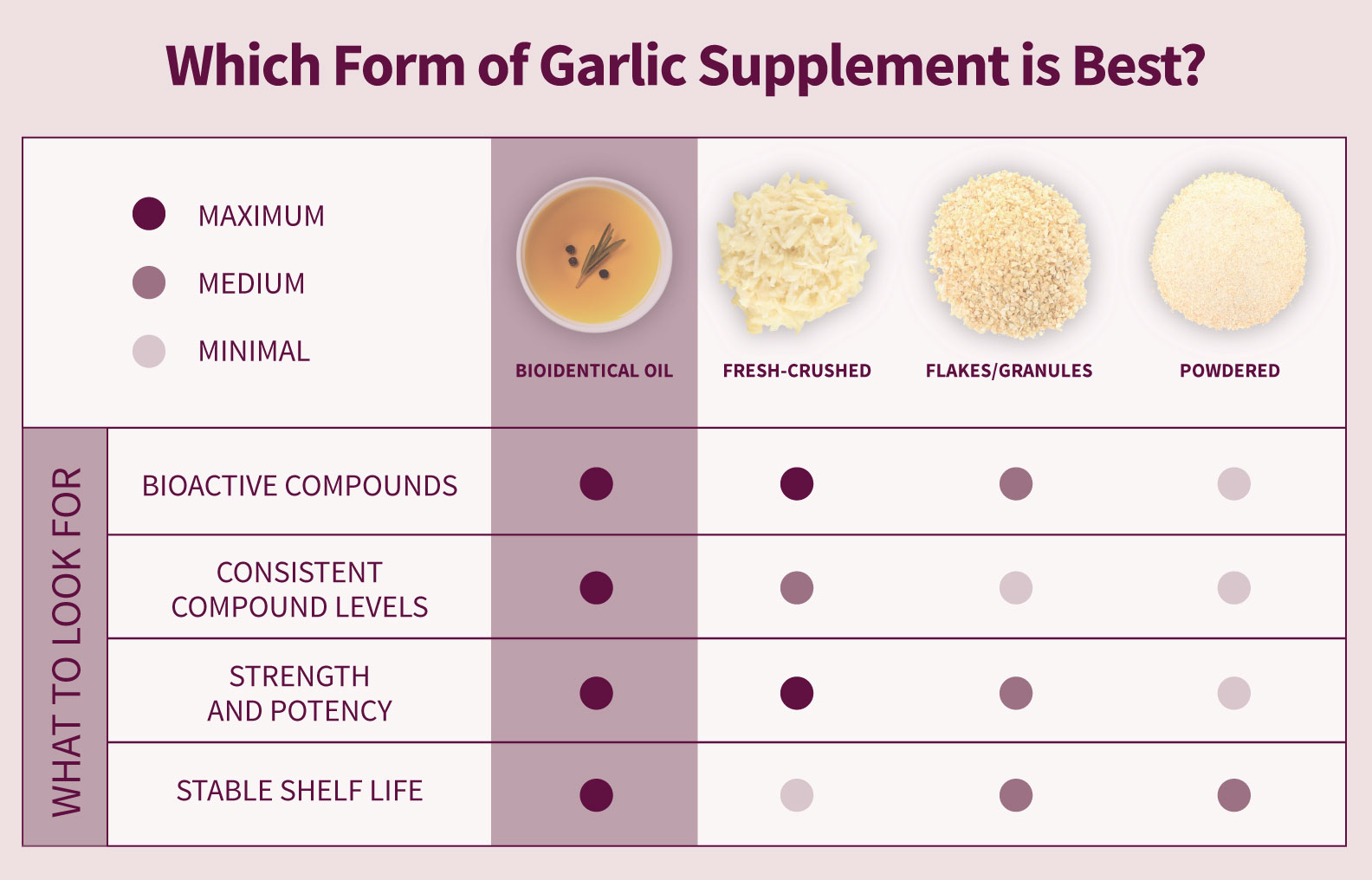 DAILY RED INGREDIENTS:
Unrefined Mineral Salt, Garlic Oil, Calcite, Dicalcium Phosphate, Sodium, Selenite, Zinc Oxide, Zinc Sulfate, Manganous Oxide, Cobalt Carbonate, Ethylenediamine Dihydroiodide (EDDI), Organic Vegetable Oil, Vitamin A Supplement, Vitamin D Supplement, and Vitamin E Supplement.
| Mineral | Max | Min |
| --- | --- | --- |
| Calcium | 4.0% | 3.0% |
| Phosphorous | | 1.5% |
| Salt | 81% | 76% |
| Magnesium | | .06% |
| Potassium | | .03% |
| Sulphur | | .07% |
| Cobalt | | 50ppm |
| Iron | | 300ppm |
| Manganese | | 1000ppm |
| Zinc | | 1 ppm |
| Copper | | 300 ppm |
| Selenium | | 30 ppm |
| Vitamin A | | 100,000 IU/lb |
| Vitamin D | | 3500 IU/lb |
| Vitamin E | | 50 IU/lb |
"Get it!! I absolutely love this stuff! I haven't had to put a fly mask on my horses all summer just fly spray here and there. I can tell a difference and my horses love it!"

BONNIE MORAN
"Pure gold. Horses love it!"

ELIZA CODD
DAILY RED FORTIFIED GARLIC FREQUENTLY ASKED QUESTIONS
Get it!!
I absolutely love this stuff! I haven't had to put a fly mask on my horses all summer just fly spray here and there. I can tell a difference and my horses love it!