Natural Horse Calmer
Does your performance horse get stressed before events? Naturally treat anxiety in horses with the Stress Relief Syringe. Our bentonite clay paste buffers acid, soothes digestive upset, and relieves acute pain from equine ulcers. Use Daily Gold to help your horse feel relaxed, focused, and ready to perform its best in every situation.
DELIVER KEY MINERALS
This completely natural montmorillonite clay contains 60+ minerals and 3% sodium chloride—the building blocks of life
SIMPLE SOLUTION
Our paste for horses is 100% natural and simple. Just water, hydrated bentonite clay, and organic peppermint oil. That's it.
PROVIDE STRESS RELIEF
Helps horses feel calm, relaxed, and ready to focus.
QUICK RELIEF FOR STOMACH UPSET
Buffers stomach acid, repairs equine ulcers, and soothes gastric upset.
AID IN DIGESTIVE HEALTH
Quickly eliminates diarrhea and colic.
TASTES GREAT
Horses love the peppermint taste!
ADD-ON
Daily Gold Syringe is an add-on in our Foundational Horse Care Program and must-have for horses traveling or competing. Complete your program with other Redmond favorites for best results.
Step 1 - Daily Gold
Step 2 - Crushed Rock
Step 3 - Free-Choice Rock
Foundational Horse Care Program
Learn more about about how Daily Gold Syringe helps stressed horses feel calmer and more focused.
Vet advice to treat your horse here
Feeding instructions
Fast-acting Daily Gold Stress Relief syringe is perfect for traveling or dosing quickly. Just feed the syringe orally 30-60 minutes before any situation that creates stress for your horse. For small horses, use half a syringe. For full-grown horses, use a full syringe. It's simple to use!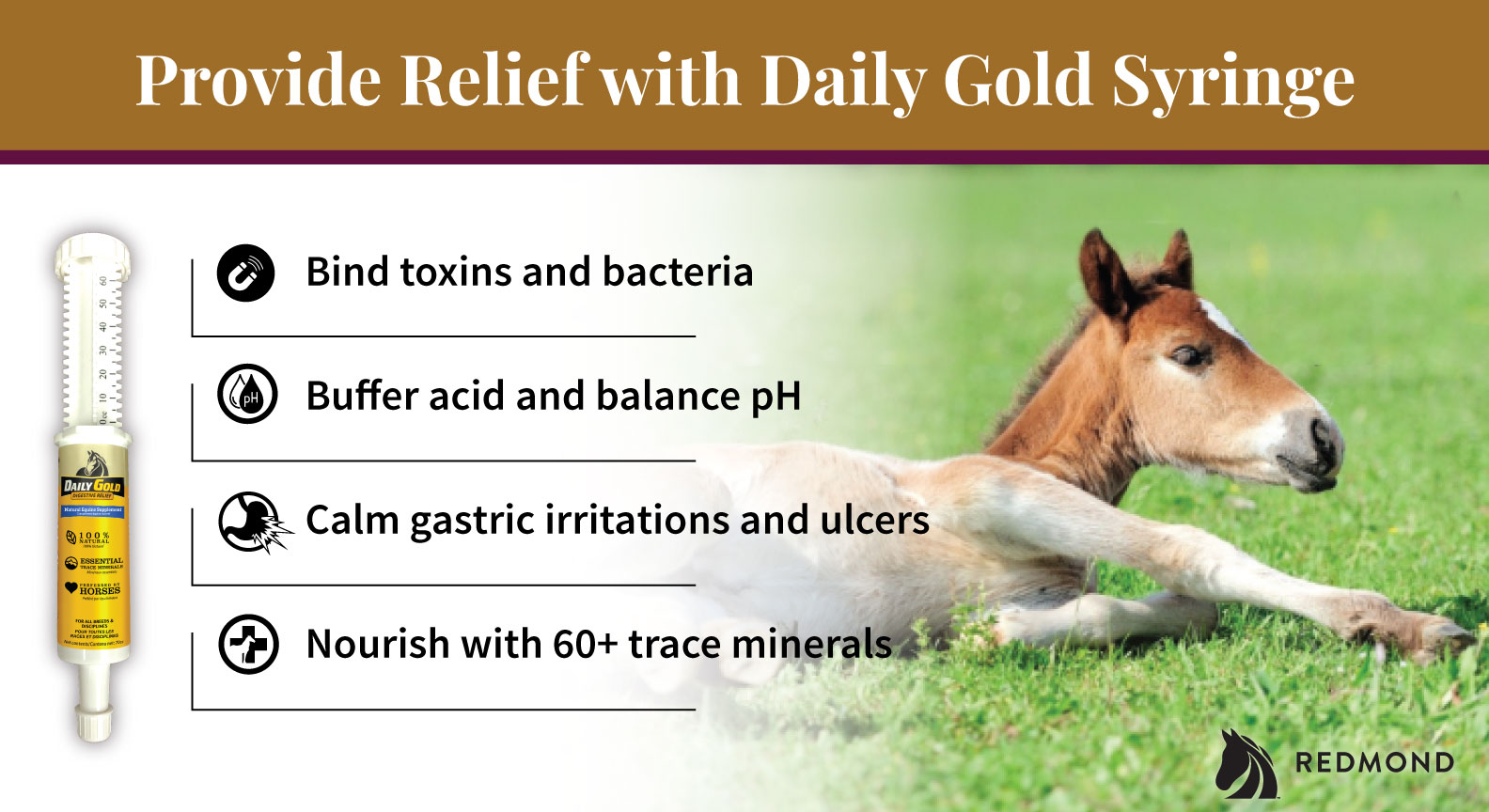 LOOKING FOR A SOLUTION THAT WILL NOT TEST?
Our horse syringe will not test. Why? Because we believe in keeping it natural—with absolutely no chemicals or calming drugs to either artificially enhance or take away the competitive edge from your horse's performance. Stressed horses will find natural relief and focus with our pre-race paste. Read "How to Calm A Nervous Horse" to get trainer tips on treating anxiety in horses and how Daily Gold can help.
How to treat anxiety in horses
DAILY GOLD IS AN EXCELLENT SOLUTION FOR DIARRHEA & SCOURS
Did you know our Stress Relief Syringe resolves diarrhea? Scours or diarrhea in foals and adult horses can be dangerous. The Daily Gold syringe is a fast-acting, natural solution. Our bentonite clay normalizes digestion by attracting and binding toxins, balancing pH, and settling the stomach. Plus, the 63 trace minerals rapidly replenish depleted electrolytes and minerals lost through diarrhea.
LEARN MORE HERE
INGREDIENTS:
Water, Hydrated Sodium Calcium Aluminosilicate, Peppermint Oil
| Mineral | Max | Min |
| --- | --- | --- |
| Calcium | 4.0% | 3.0% |
| Phosphorous | | 0.00% |
| Salt | 3.50% | 2.50% |
| Magnesium | | .80% |
| Potassium | | .70% |
| Sulphur | | .08% |
| Copper | | 29ppm |
| Manganese | | 400ppm |
"I'm so relieved to have FINALLY found a product that not only helps put my nervous horse at ease but is affordable enough to give her before every run. Daily Gold horse syringes are easy to administer, travel with, and much more affordable than comparable products. I don't leave for a barrel race or rodeo without them!"

ALYSSA FLEMING
"I LOVE Daily Gold paste! It's been a lifesaver on multiple occasions when my mare developed a sudden upset stomach. I love that it helped my horse feel back to her sassy self in no time, and it's something I'll never allow myself to run out of."

STEPHANIE MACKISSOCK
"Before discovering Daily Gold syringe, my horse Ruby was stressed and hot to where I almost couldn't handle her. Nothing helped, and pharmaceuticals were way too expensive—plus, I didn't want to drug my horse. Redmond's paste was different; it's 100% natural, with simple ingredients. Now Ruby and I have more efficient workouts without either of us getting frustrated."

EMMA MCDONALD
"Gold Quick Relief Syringe is a must-have product. We use it daily on our foals to improve digestion and prevent diarrhea. I wouldn't be caught without Daily Gold."

LANCE ROBINSON
"Daily Gold helps my horse focus because it settles any discomfort in their stomach. A pain-free horse equals a focused horse."

BRYAN RASMUSSEN
"This past spring Daily Gold syringe saved the day three times with colicky horses. One of my own had colic, and I was approached by two other panicked owners trying to save colicky, tied-up horses. Daily Gold eased their stomach pains, improved digestion, and all three horses are doing well today. I take this product with me everywhere to ease stress from travel, changing temperatures, and excitement. You can't go wrong with Daily Gold."

Jake Stocking
DAILY GOLD STRESS RELIEF SYRINGE FREQUENTLY ASKED QUESTIONS
Im a believer!
I'm a believer! Long story, short. I took my filly to a clinic. It was her first time camping for 4 days, away from home. She was really good, but she didn't eat or drink well, so she wasn't getting the powder form of this. So, the next time, I brought her to an event. I decided to give her the paste, 30 minutes before I loaded her in the trailer.
This was a complete, game changer! She, ate and drank all day long, without internalizing any stress.
Poopy butt!
My horse has had loose stools for a couple of years. Tried everything. Tested everything. Spent way too much money on different supplements and meds. This is literally the first thing that worked for my 24 year old gelding!
Patricia,
Thanks for sharing your fabulous results! Daily Gold Syringe is a great way to see quick results, and Daily Gold powder or pellets in your gelding's feed is a great way to maintain a healthy, calm gut. Thanks for being a part of the Redmond Equine Family.
Daily Gold
A little slow to work-but seems to! I will give this a couple more months to see the benefits-it made the diarrhea better.
Daily Gold® Stress Relief Syringe
AMAZING
Daily gold has been an absolute staple in my horses diet for a while now. I got these syringes as part of the travel pack since today I moved my horse to a new barn for training. I gave her a syringe in her feed before we left and she was so good! When she stepped off the trailer she looked around and grazed before we went in and her trainer asked if she's always this relaxed and calm. She can be decently anxious so for her to be so impressed with her demeanor was a moment that made me really proud! She settled into her new stall so fast and she lives outdoors full time, but she was super relaxed and yawning a lot enjoying her fan. Can't recommend daily gold in any form enough!
Hi Naomi,
Thank you for sharing your success with Daily Gold. You have partnered the Daily Gold Powder for everyday health and the Syringe for more stressful situations just as we envisioned. We are so happy to hear that your horse is thriving!