Re-Lyte Immunity is a clean, refreshing immunity mix filled with vitamins, herbs, and minerals purposefully selected to supercharge your body's natural immune response— without any unhealthy additives getting in the way.
It contains a mix of vitamins C, D, B12, zinc, ginger root, turmeric, elderberry, and electrolytes (from our signature Re-Lyte Electrolyte Mix, of course) that you can easily add to your water daily to fortify your body and feel like your most awesome self.
No Unhealthy Sweeteners
Some immunity mixes contain sugar, fructose, sucralose, or other unhealthy sweeteners that don't do your immune system any favors. Re-Lyte Immunity is lightly sweetened with zero-calorie stevia leaf extract that won't trigger blood sugar spikes (which can interfere with optimal immune function).
No artificial ingredients or unnecessary additives
Re-Lyte Immunity doesn't contain any of the junk ingredients or fillers you'll find in other immunity mixes, like preservatives, artificial flavors, and anti-caking agents.
More immune-supporting electrolytes
With our Re-Lyte Electrolyte Mix as its base, Re-Lyte Immunity contains more immune-supporting electrolytes than many other mixes out there. One of the leading immunity mix brands (we won't name names) contains far less of three electrolytes that are critical to immune function: sodium, chloride, and potassium. It contains 65 mg of sodium (versus 490 mg in Immunity), 200 mg of potassium (versus 330 mg in Immunity, and no chloride (versus 770 mg in Immunity).
Ultimate immune health
How to Mix Re-Lyte like a pro
1) Mix one scoop of Re-Lyte into 12-16 ounces of water. Add more or less water depending on how you like it to taste.
2) After mixing, let sit for at least 30 seconds.
3) Shake it up again for another 10 seconds to let it fully dissolve. (Avoiding artificial ingredients means a little extra mixing.)
You may notice sediment at the bottom of your container when done. That is trace minerals from Real Salt® that are safe and beneficial to consume.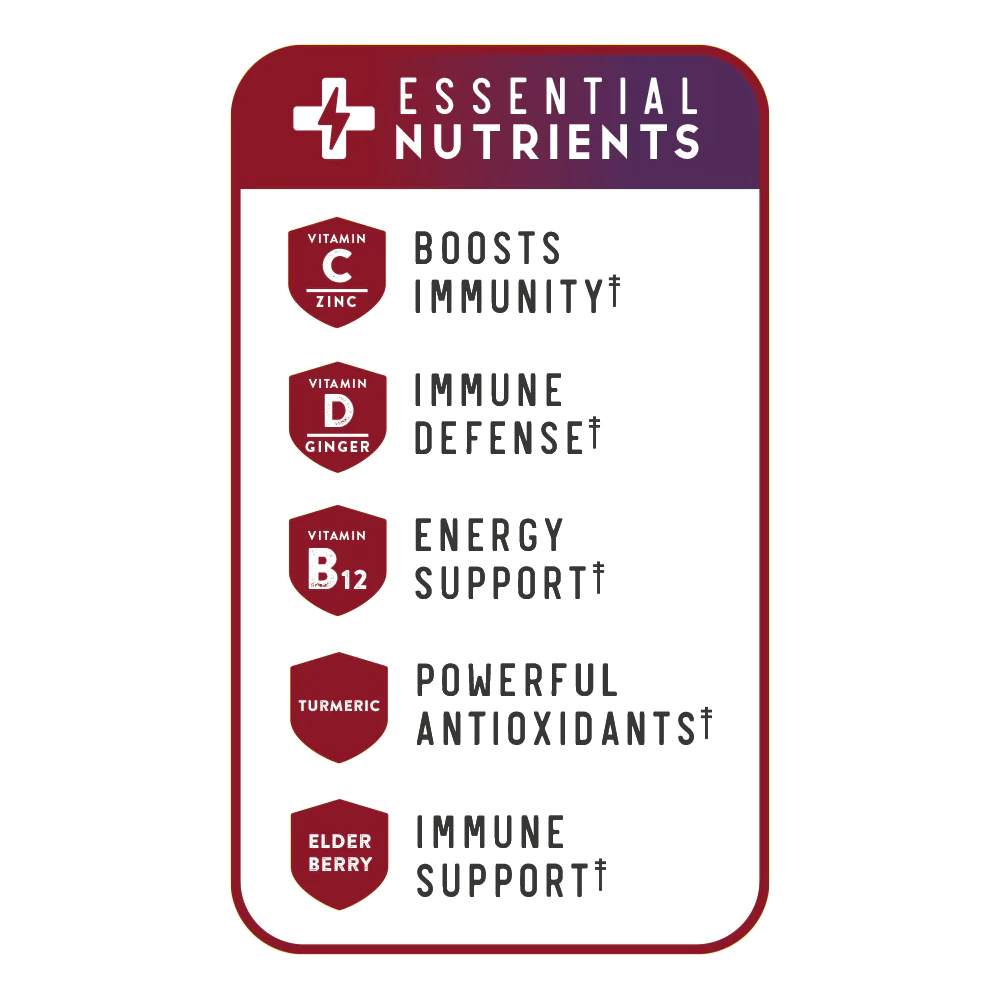 KEY INGREDIENTS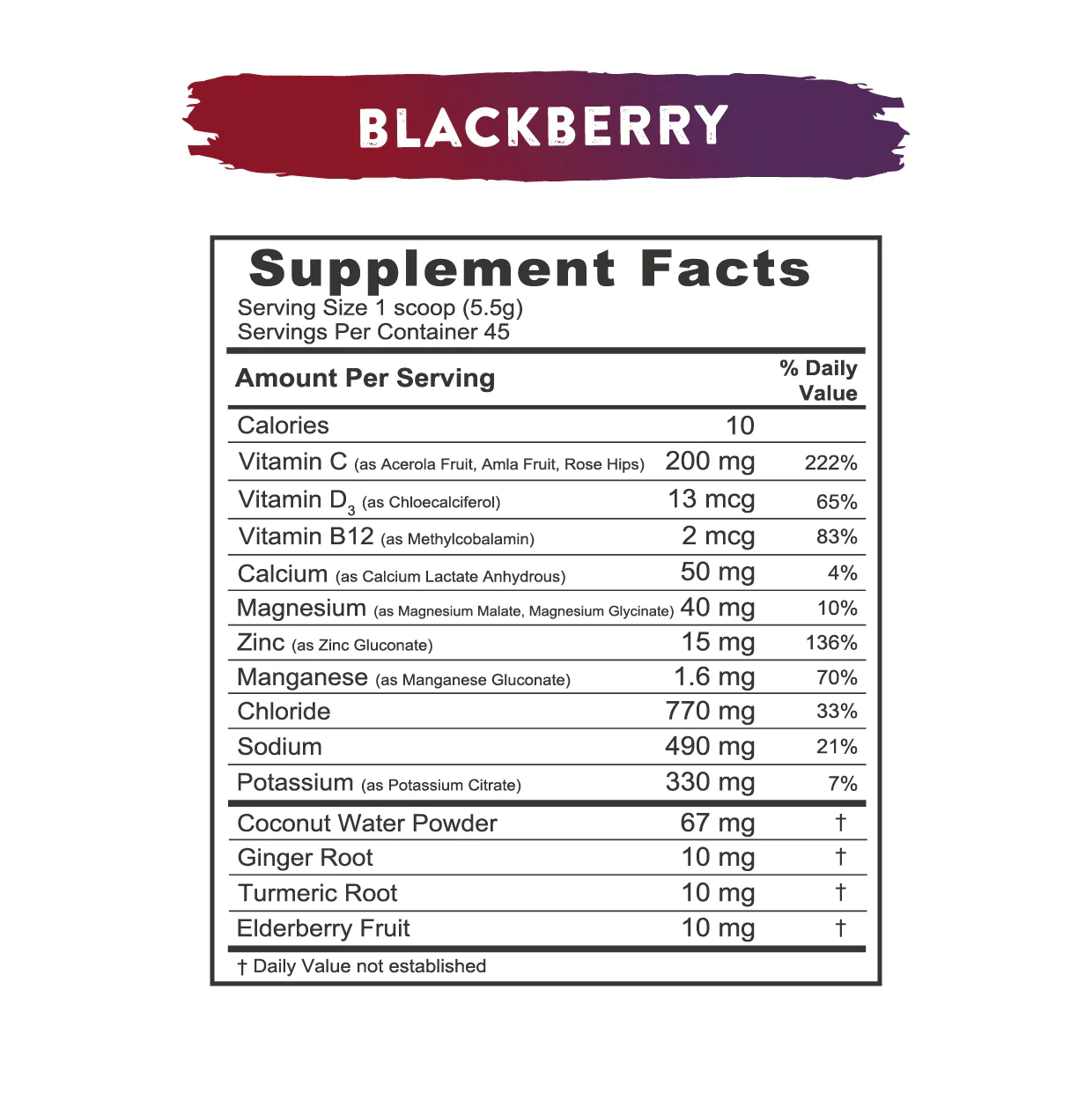 Other Ingredients
Blackberry - Ancient sea salt (Redmond Real Salt®), GMO-free citric acid, rebaudioside-A (stevia leaf extract), natural blackberry flavor, natural flavors, red cabbage extract (color). CONTAINS COCONUT.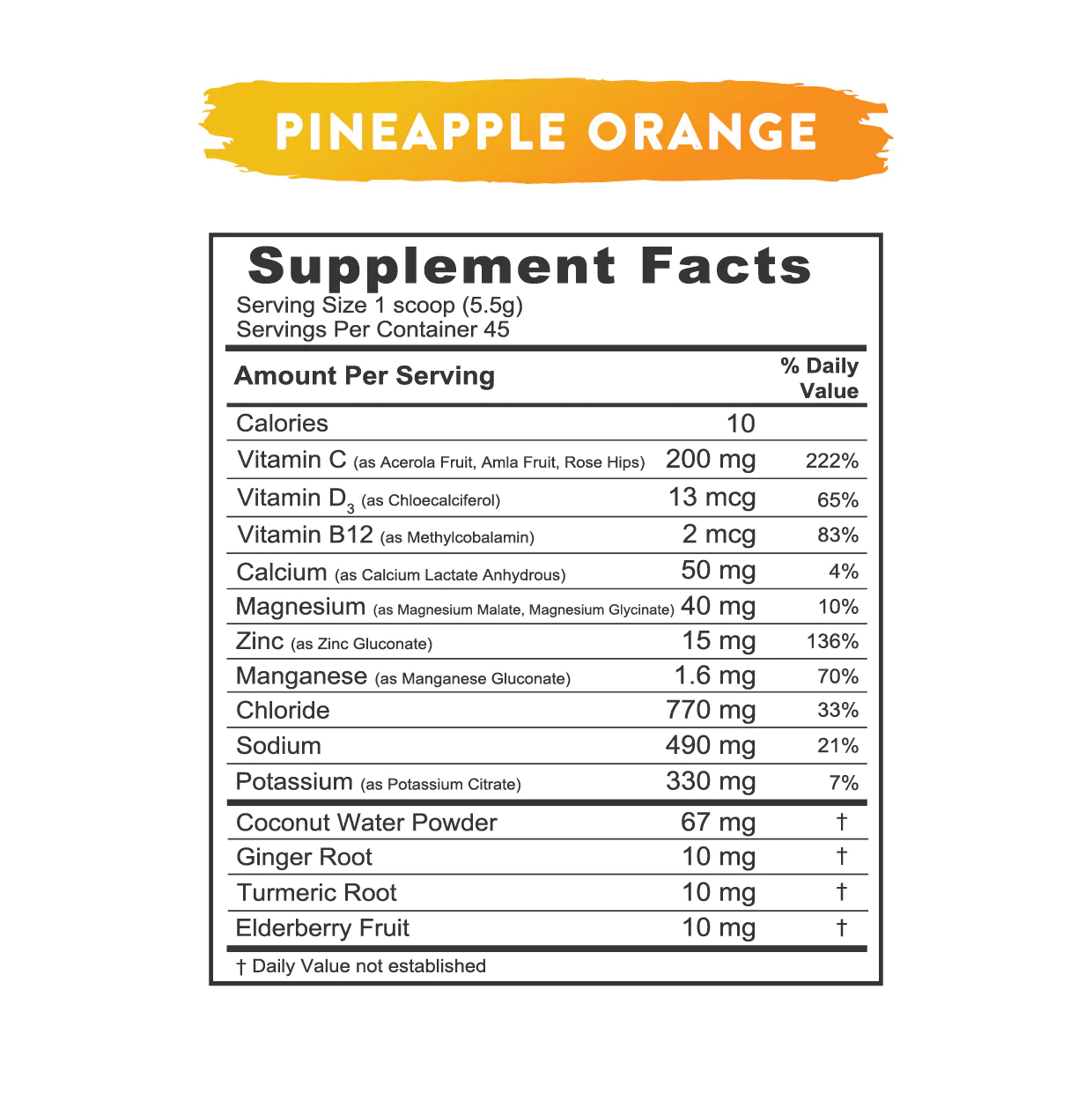 Other Ingredients
Pineapple Orange - Ancient sea salt (Redmond Real Salt®), GMO-free citric acid, rebaudioside-A (stevia leaf extract), natural pineapple flavor, natural orange flavor, natural flavors. CONTAINS COCONUT.
"Amazing. I take this first thing in the morning and it makes such a difference in my overall energy levels. I use it as my daily multivitamin with an added hydration bonus. I honestly feel dehydrated without it. Love it! Thanks Redmond for a great product! Blackberry is my favorite. Very good, natural taste."

BECCA
"Phenomenal Product. Adding this to my diet has improved my energy and my overall health significantly. After drinking this for the first time, I felt so great that I actually forgot to drink my morning coffee. This product energizes you, tastes great, and helps you feel like the best version of yourself. Worth every penny!"

K.M.
"I got a sample of the pineapple orange at Pinner's Conference and craved it everyday until I finally gave in and bought it. It tastes good but my body must really crave what's in it because I find myself reaching for my water more."

C.
"Must have!! Re-Lyte immunity is my absolute favorite! My family has added it into our daily routine and have noticed a significant difference in feeling hydrated and prepared to fight off all the illnesses around us! This is something we will be sure to always have on hand, especially when we travel. The blackberry flavor is a delicious and subtle flavor!"

HALEY
RE-LYTE IMMUNITY FREQUENTLY ASKED QUESTIONS
Best immunity Drink Ever
I love this drink! Best in hydrating and building immunity. Haven't been sick since drinking it almost daily.
Great product
Love the taste but a little worried about the sodium since I have high blood pressure.
Amazing stuff to drink! Great service with Redmone Equine.