Natural Wound Care for Horses
Is your horse suffering from painful bites, sores, cuts, or burns? Redmond First Aid clay heals superficial horse injuries by sealing wounds, drawing out infection, repelling flies, and preventing proud flesh. Make First Aid your first choice for natural healing.
PREVENTS PROUD FLESH
Promotes a clean, rapid repair and prevents proud flesh from forming.
DRAWS INFECTION
Our hydrated bentonite clay soothes on contact and pulls heat and bacteria from infected wounds.
SEALS WOUNDS
Acts as an antiseptic and creates a protective barrier against bacteria and flies.
ADD-ON
First Aid wound healing cream is an add-on in our Foundational Horse Care Program and a must-have in your barn and saddlebag. Complete your program with other Redmond favorites for best results.
Step 1 - Daily Gold
Step 2 - Crushed Rock
Step 3 - Free-Choice Rock
Foundational Horse Care Program
Learn how First Aid also offers quick relief for humans! Use it to soothe insect bites, rashes from stinging plants, or burns on your own skin.
APPLICATION INSTRUCTIONS:
First Aid for Horses is easy to apply! Just mound a thick layer over your horse's wound and continue applying once or twice daily. A wrap can also be used to keep the clay moist and protect the wound. The clay will seal the affected area, draw out infection, repel flies and bacteria, and leave a clean repair.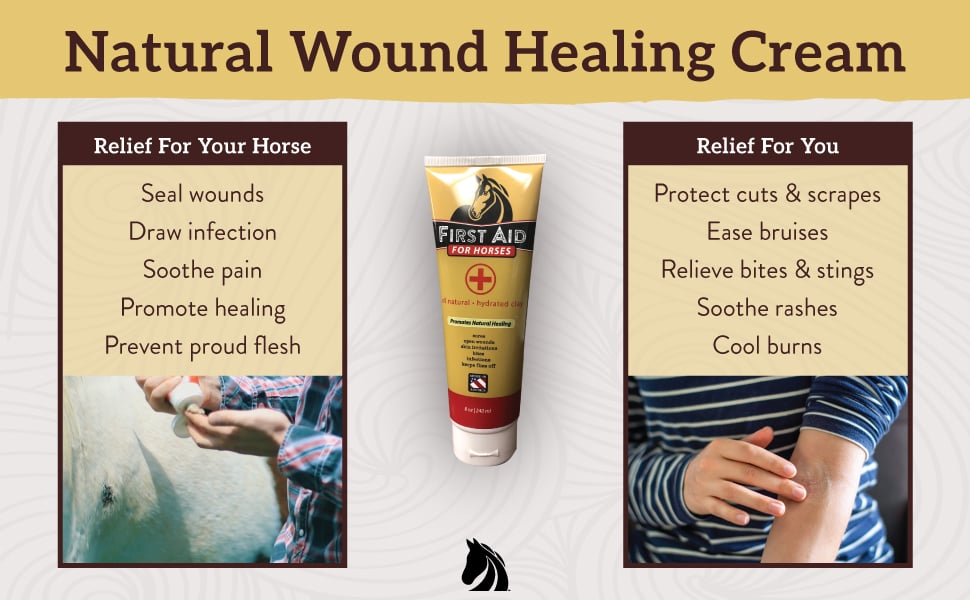 LEARN ABOUT WHY REDMOND BENTONITE CLAY HEALS
Bentonite, also known as montmorillonite, is an age-old healing clay with incredibly diverse curative properties. Some call it Mother Nature's pharmacy. We call it the "clay of a thousand uses." Redmond bentonite in particular excels at healing sores, rope burns, cuts, and bites on horses.
INGREDIENTS:
Hydrated Sodium Calcium Aluminosilicate
"Absolutely love this stuff! Had a wound on my mare that nothing would heal. I tried everything from Neosporin, SWAT, Vetericyn, Bag Balm, and a few others I had at the barn. They did nothing or made it worse! Put on First Aid, and like magic the first day it started finally healing up. Now 3 days later it's almost gone! Doesn't hurt or sting. My mare after just two uses, quit trying to avoid her treatment. Keeps bugs off and really does work! New favorite product!"

AARON JONES, AMAZON CUSTOMER
"Simply the best first aid for horses out there. Redmond Equine, in my opinion, makes absolutely the best horse products, period. My neighbor was at a horse show where the arena sand wore sores on the bulbs of her horse's heels. She slathered this product on them, it dried and created a protective barrier. She had no more issues with her horse's heels becoming raw. Superior product."

KIM LANDFATHER, AMAZON CUSTOMER
"Amazing healing product! All-natural, just clay and water. Working magically for all cuts, sores, etc."

MARINA M., AMAZON CUSTOMER
"This is a great product for horses. It heals wounds quickly and keeps flies off the area. I would highly recommend this product for all horse owners' medical kits."

TONI, AMAZON CUSTOMER
"There is nothing better for putting on an open wound and keeping flies and other flying beasties off the wound—and it stays in place without sweating off."

J. PETSCH, AMAZON CUSTOMER
Recently, my young horse Eddie got in a scuffle and ended up with a small cut over his eye. [Redmond] clay was the perfect answer since I didn't want to use any chemicals and risk it getting in his eye. The clay dried up and stayed in place for several days, forming a protective layer to keep out insects and debris, almost like a bandage. Now it looks great—like it never even happened"

JULIE GOODNIGHT
FIRST AID FOR HORSES FREQUENTLY ASKED QUESTIONS
Great product!
I love this stuff! Works greats for all kinds of wounds!
First Aid
The horse was hot and it melted off the horse other wise seemed to help heel
The Only First Aid Ointment I Use
I have been using this amazing product for years on everything from scrapes, cuts, open wounds, scabs and wrapped wounds. I have used this product on myself for bug bites and stings, and it really does relieve pain and itchiness. I love that this is super easy to apply, doesn't smell or sting, can be used around their mouth and legs, and the simple ingredients! I can't recommend this product enough!
Hi Kristina,
Thank you for choosing Redmond Equine and sharing your feedback. Safely and effectively being able to use a product on you AND you horse is peace of mind that just can't be described! We look forward to serving you again.
I love this product for general first aid use! Allows healing from the inside out, protects from flys and does not sting when applied.
I love having this on hand
I have used this product on my mare. When she lays down and gets up ,she sometimes cuts the front part of her pastern. I wash off the areas, dry them and then apply. I know the cut is protected and able to heal with out infection and keep the flys out !